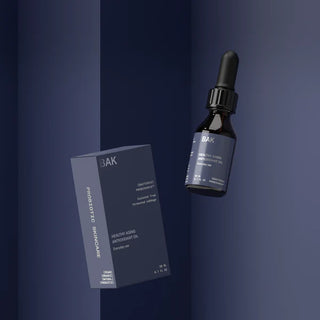 BAK Healthy Aging Antioxidant
Regular price

Sale price

$66.00

Unit price

per
The probiotic Healthy Aging Antioxidant Oil combines the antioxidant properties of ferulic acid with the smoothing and healing properties of natural oils and Vitamin E.
- Smoothes the skin, stimulates tight-junctions and reduces the appearance of wrinkles.
- Prevents damage caused by UV radiation and environmental oxidants

- Moisturizes and increases skin radiance

- Improves hydration and skin barrier function
- Suitable for everyday use and all skin types

20 ml.
N.B. The oil does not need to be refrigerated, thanks to the new screw cap innovation.
STORE AT ROOM TEMPERATURE 
Thanks to our new packaging innovation, the live probiotics can be stored at room temperature, rather than in the fridge.
Shake the bottle to ensure no probiotics are sticking inside the cap. Then remove the screw cap from the vial and dispose of it (not recycleable due to mixed materials). Replace the screw lid with the pipette that was included in the box. The product is now ready to be used.
PROBIOTIC ROUTINE
Cleanse your skin (preferably with a prebiotic cleanser).

Shake the oil bottle to disperse the probiotics evenly, and draw oil into the pipette. Apply a small amount of oil to clean skin, and gently spread the product evenly, in a thin layer. The oil can be used both on the face and body.
WHAT ARE THE LITTLE CRYSTALS

The fine crystals that you may notice in the oil contain the probiotics. They will dissolve upon contact with your skin to release the good bacteria.
LET IT SOAK IN BEFORE APPLYING OTHER PRODUCTS
Don't apply other products to the skin before applying the oil, unless those products are also free from preservatives and bacteria-friendly.

Let the probiotic product absorb into the skin before applying other products, like sunscreen or make-up, that are water-based. All water-based products contain preservatives designed to kill bacteria—also the good ones.