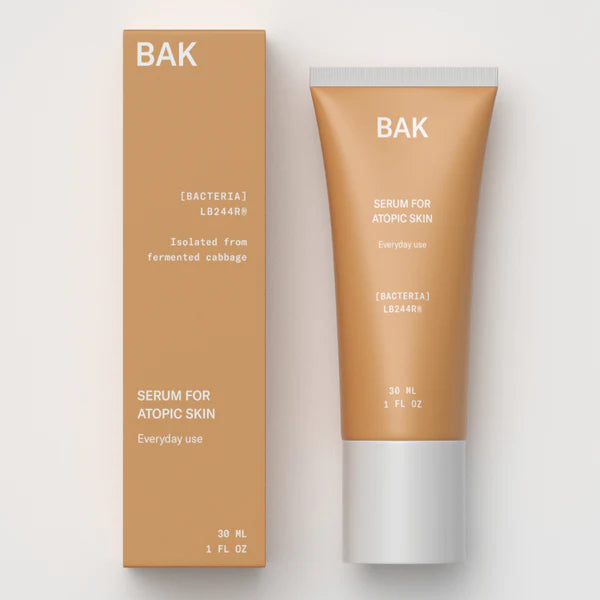 BAK Serum for Atopic Skin
Regular price

Sale price

$48.00

Unit price

per
The serum is probiotic, natural, vegan and organic. The product is designed to balance the skin microbiome with a soothing effect on skin prone to irritation, itchiness and dryness. 
- Soothing effect on rashes, irritated and itchy skin
- Stimulates tight-junctions and reduces the appearance of wrinkles
- Improves hydration, skin health and appearance
- Suitable for face and body

30 ml.
N.B. The products have no allergenic potential. However, as atopic skin can be very sensitive, try the cream on a small area on the inside of your forearm to check for sensitivities. If no irritation occurs in the first 24 hours, the product should be safe to use. In case of an adverse reaction, discontinue use.
CRYSTALS OF PROBIOTICS

The fine crystals that you may notice in the serum contain the probiotics. They will dissolve upon contact with your skin to release the good bacteria.
HOW TO USE
Cleanse your skin (preferably with a prebiotic cleanser).
Apply a small amount of serum to clean skin, and gently spread the product evenly, in a thin layer. The serum can be used both on the face and body.
Don't apply other products to the skin before applying the serum, unless those products are also free from preservatives and bacteria-friendly.
AVOID SKINCARE WITH PRESERVATIVES

Let probiotic products absorb into the skin for 30 minutes before applying other products, like sunscreen or make-up, that are water-based.
All water-based products contain preservatives designed to kill bacteria—also the good ones.
STORE PROBIOTICS COOL UNTIL FIRST USE