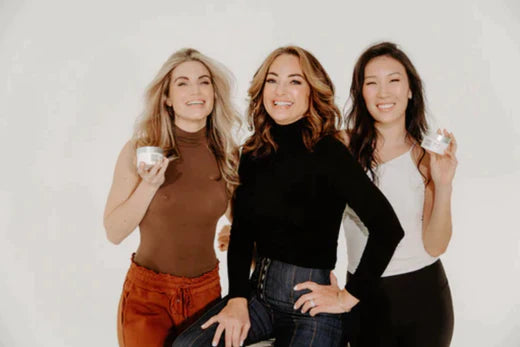 BREAKING DOWN SKIN CONCERNS: ISSUE NO. 1 ROSACEA
Karee Hays

Rosacea is a chronic inflammatory skin condition that affects both men and women. It is very common and a lot of our clients struggle with it, with symptoms like redness and irritation of the skin. There is no cure for rosacea, but with help from us, we can control and treat it. We know it can be super frustrating to deal with a rosacea flare up, but we have a few products & treatments to help you relieve your symptoms and improve your skin.
Let's get into a few of our favorite products for rosacea. First is KH Sheer Peptide Gel. This will soothe and hydrate the skin as the perfect light moisturizer. For a more concentrated version, our KH Hydra Peptide Masque will go an extra step to help reduce hydration and calm dry, flaky skin. Made with redness & rosacea prone skin in mind, KH Rescue Soothing Gel is made with Vitamin K to minimize the appearance of small capillaries. Avene FORT Relief Concentrate is also made for redness prone skin, and can also reduce the appearance of swelling. If you're looking for a serum. Theraderm OPC Reparative Serum is filled with antioxidants, so not only will it help reduce redness, it will protect skin from damage. Last is our KH Rosacea Silicone Gel - this one is prescription strength so book your appointment with us to see if you're a candidate! If you struggle to find products strong enough, this may be for you.
There are also options with regular treatments that can relieve rosacea symptoms and keep skin soothed + hydrated. Our KH Glow Facials are customized to each client's needs, so with rosacea in mind, we can tailor your facial to give you the best results. LED Light Therapy can also help reduce redness and inflammation of the skin, and eliminate some of the discomfort you may be experiencing. An IPL or Adva Light treatment may provide you with long standing results and an overall gradual improvement in rosacea. Depending on your condition, a series of treatments may be best, followed by maintenance treatments later on. We recommend booking a consultation with us, in person or virtual, so we can get to know you and your skin and give you all of your treatment options. 
We know rosacea can make an ongoing struggle with your skin, but we are here for you! Which products & treatments have worked the best for your rosacea? Let us know and tell us which skin concern you'd like us to cover next.