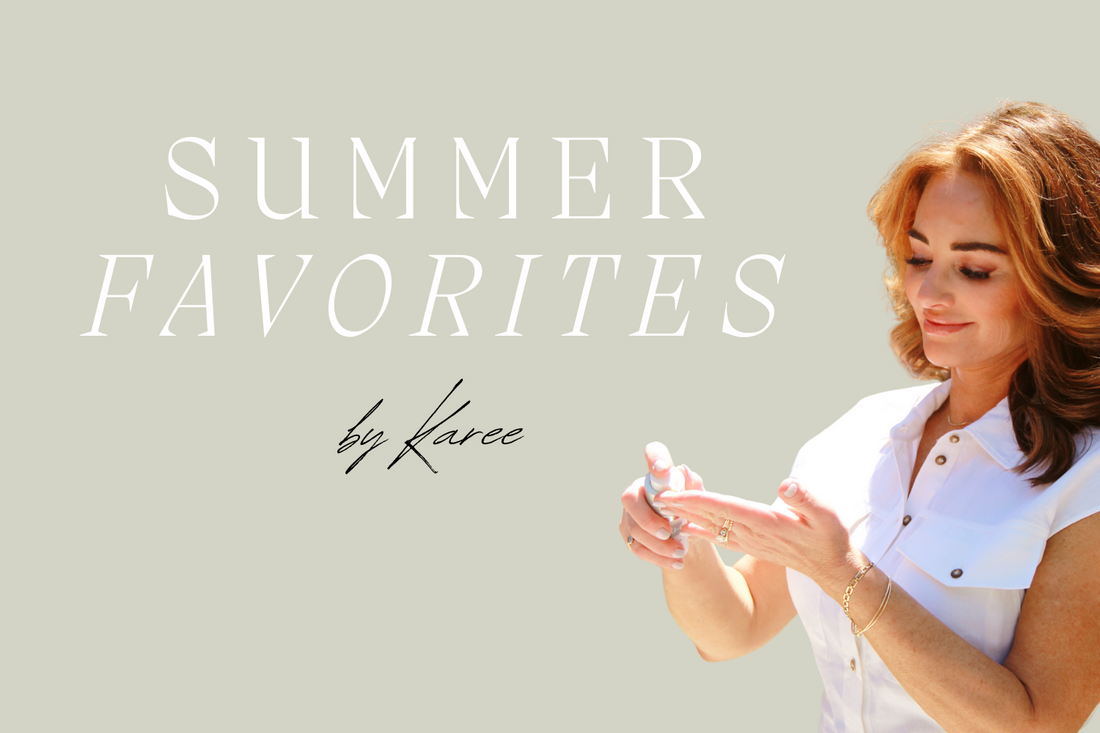 Karee's Summer Favorites
Karee Hays

01. KH RETEXTURIZE GF NIGHTTIME RESTORE:
My go to summer skincare essential! As I am cutting back a little with my heavier retinoids in the summer, Retex GF is a great gentle retinoid to continue creating cellular turnover with antioxidants and brightening properties. 
I love an aviator frame and especially these blue, oversized luxe glasses are just so chic for summer! Be prepared to get stopped anytime you wear them.
This is one of our four new summer lip glosses that I am LOVING on top of my Charlotte Tillbury Pillow Talk liner!
04. BOBBIE BROWN BEACH FRAGRANCE:
If I could bottle what Summer smells like, it would be this light, intoxicating fragrance!
We launched a "limited edition" new KH summer candle. It reminds me of living with simplicity and being at one with nature. This is a very vibrant green, bright scent with a touch of zesty lime, cedar, orange, and vanilla. A whiff of this, and all I want to do is be outside playing!
This clinically-proven formula was designed to help visibly firm, tighten and lift sagging, crepey skin in order to sculpt and tone the body. That is exactly what I want to do ALL year, especially in the SUMMER. I mix this in with my Luna Bronze self tanner. OBSESSED!
I love alternating the gloss daily pads with my Kojis. These glycolic pads help to reduce the appearance of fine lines, wrinkles and pore size, improves tone and texture while promoting smoother looking skin. These are great in the summer to keep skin bright, exfoliated and less dry feeling.
08. CLE DE PEAU BEAUTE CREAM BLUSH:
I have loved and used this formula for quite some time and just splurged on Shade #3. It's a really lovely bright peach that brings the complexion to life. A little goes a long way and this cream formula is one of the few that I truly love. People ask me all the time what blush I use, I love a pinched cheek look. This does it!
09. HEATED AIRLESS BLOWOUT BRUSH:
Don't laugh! Yes, this is from QVC and I am obsessed. One of my favorite hair tools this summer.
This nail polish provides radiant color, with a lacquer shine. Summer is officially here and this pop of color screams summer! This color just makes me happy.
I do not leave the house without this outstanding SPF. It gives the perfect coverage, glow, and hydration.
12. ALOHA TRAVEL BAGS:
We just got these bags in office and I already have 3 different patterns! Give us a call or stop in to see all the different variants. There is a reason these are the summers best selling travel bags. Water resistant, lightweight, and packable.