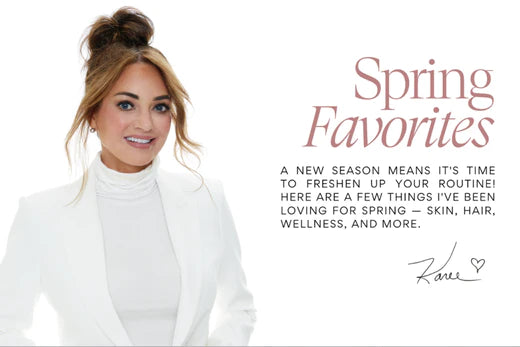 Karee's Spring Favorites
Karee Hays

01. LE MIEUX ISO-ROSE HYDRATING MIST: Tame stressed skin with this rose-infused bouquet of deeply hydrating and calming benefits.
02. REVISION DEJ DAILY BOOSTING SERUM : Just like our bodies become fatigued and worn out, so does our skin! Revision DEJ Daily Boosting Serum is the first and only energy therapy serum to transform dull and fatigued skin to luminous and glowing.
03. KH SHEER SHINE WEEKLY HYDRATING PADS: This weekly hydrating chemical peel pad exfoliates dead skin & improves overall tone and texture. Perfect before any event or for the ultimate weekly hydration experience.
04. PIQUE BEAUTY ELECTROLYTE PACKETS: This electrolyte powder visibly reduces fine lines and increases skin elasticity. "This makes me look forward to filling my Stanley cup up and drinking my water all day. I feel more hydrated and love the Hyaluronic Acid benefits within the skin."
05. MAKEUP BAG SET: "Time to travel and keep it chic. This is my second round of these travel sets, I love them so much…they are sheer enough to see my items and they have a designer vibe without spending a fortune!"
06. GIORGIO ARMANI FLUID SHEER GLOW ENHANCER: A multi-purpose liquid highlighter, bronzer, and blush. Provides a sheer, natural, glowy makeup look!
07. THE SKINNY CONFIDENTIAL PINK BALLS FACIAL MASSAGER: Karee is a big fan of facial massage and has tried all of the facial tools out there! But this one sticks out above the rest. It gives you an instant facelift by contouring + de-puffing the skin. Use code QUEENKAREE for 15% off!
08. MANTA HAIRBRUSH: "After taking my Spirulina tablets all winter my hair is growing thicker and using a scalp scrubber has been a game changer!"
09. LES FUMEES NO 5. DEBAUCHERY: This fragrance is a unisex experience with a magnetic, strong, dark and confident undertone. This scent projects bohemian qualities. It consists of heavy wood tones, yet falls smoothly on the skin. Available in store!
10. KH HYDRA BRONZE PADS: Stay out of the sun and get a fresh spring glow with our Hydra Bronze Pads! They give you subtle, buildable color while keeping your skin hydrated.
11. DIOR LIP GLOW OIL: Who doesn't love a good lip product to throw in their bag?! A nurturing, glossy lip oil that protects and enhances the lips, bringing out their natural color. High shine + hydrating for spring!