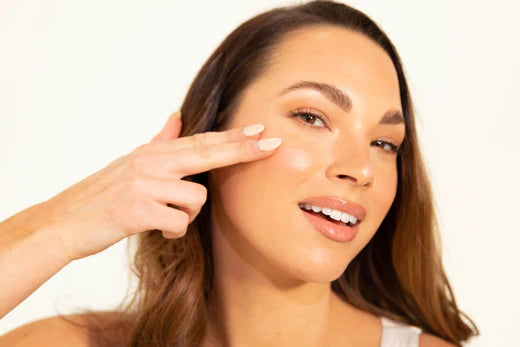 Sun Meets Glow
Karee Hays

Karee gets asked this a lot… "What is the number one anti-aging product I should be using?!" Her answer is always SUNSCREEN! Without a doubt, SUNSCREEN! This is the number one anti-aging product you should be using DAILY. Rain or shine, indoors or outdoors, you must be using sunscreen. And no… the spf in your foundation does not count.
We all have heard how important it is to wear sunscreen for skin protection, but do you know the specific reasons why? No matter who you are, what your skin type is, where you live, everyone should have an SPF in their skincare routine. If you do not have sunscreen in your skincare, now is the time to add it. We don't just say to wear sunscreen because everyone else says it, it truly is so important to protect your skin. 
Wearing a broad spectrum sunscreen every day helps prevent premature aging,  sun spots, hyperpigmentation, cancer, sagging and so much more. Once you damage your skin from the sun, it is hard to get it back to how it was before. Also, who wants to age fast!
Now let's get to the reason you came to this blog – to know exactly what Karee uses! Karee uses a mixture of Color Science Flex and Revision Intellishade Original. She likes to mix these depending on the coverage she is wanting for that day. She NEVER misses a day, hence why she looks the way she does!
We also offer a handful of other great sunscreen options that are all perfect for daily use. KH Sunshade Complete is a fan favorite! Our signature tinted SPF 40 with antioxidants is designed with broad UVA/UVB protection, which provides a physical barrier against skin damage. This SPF is also free of chemicals, fragrance and preservatives.
We also offer Elta MD SPF, which comes in Clear Broad Spectrum SPF 46, Lotion Broad Spectrum SPF 30+, Physical Broad Spectrum SPF 41 Tinted, and Pure Broad Spectrum SPF 47. You can't go wrong with any of these options, it just comes down to preference and what you're looking for. They all work to protect your skin and keep you looking young longer!
"Here's why you should always wear sunscreen, even on cloudy days! Up to 80% of the sun's rays can pass through clouds, so if you assume it's OK to forgo protection on an overcast day, think again, unless you like fine lines, wrinkles and sun damage. Sunscreen is an important preventive health care habit that I don't take lightly. It should be maintained all year, including the winter months. Snow can reflect up to 80% of UV rays, AND the higher the altitude, the greater the UV exposure, so sunscreen is crucial for family ski vacations, too. When in doubt: always wear sunscreen!" - Karee Hays
So what should you take away from this? Protect yourself with a broad spectrum sunscreen DAILY! Sunscreen is essential to keeping skin bright, youthful, and glowing. Choosing a sunscreen product can be overwhelming with all of the different options available so we are here to help. Stop in or shop one of the above recommendations today!